NH Bacteria Treatment
---
Why is our New Hampshire Bacteria Treatment better?
Custom built systems:
We custom design and build all of our New Hampshire water treatment systems in-house. We take pride in the fact that we are not limited by ties to any particular franchise or manufacturer. This allows us to select the best possible components for the application. We don't agree with the one-size-fits-all philosophy. We carefully analyze your particular New Hampshire water profile, and build a New Hampshire bacteria treatment system specifically to target your issues. This way, you and your family will get the highest quality New Hampshire water possible.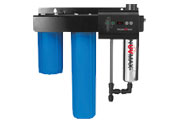 Well Chlorination
The first step to eliminating bacteria from you water is to do a well/whole house chlorination. If bacteria is still present after two chlorination's we recommend installing one of our UV Bulb.
Advance Ultraviolet (UV) Sterilization System
Effective: Eliminates virtually all microorganisms including Bacteria and Viruses
Economical: Hundreds of gallons are purified for each penny of operating cost.
Safe: No danger of overdosing, no addition of chemicals; Alarm sounds if UV lamp is not working
Fast: Water is ready for use as soon as it leaves the purifier - no further contact is required
Durable: Chamber and hardware are stainless steel for dependable long life
Easy: Maintenance is minimal, and units are compact; the compact UV chamber delivers maximum purification, and can fit just about anywhere in your home.
Automatic: Provides continuous disinfection without special attention or measurement
Chemical Free: No chlorine taste or corrosion problems; no harmful chemicals going back to the environment, and the taste of your water is not affected.
Versatile: Capacities available from 1 to 9 gallons per minute (GPM); higher GPM is possible depending on unit chosen.
Two Options: